---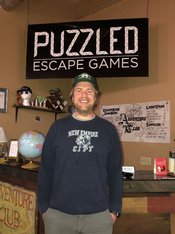 Tom Dahl '99

Tom Dahl '99 Co-owner of Puzzled Escape Games, PVPA's very first Alum!
Lise Lawrence '01 Co-owner of Puzzled Escape Games
Marlena Zahm '00 Puzzled Escape Games Director of Marketing
PVPA Alums and entrepreneurs Tom Dahl, Lisa Lawrence, and Marlena Zahm of Puzzled Escape Games are creating opportunities for the next generation of aspiring artists through providing internships for two PVPA VAPA students this spring semester. Working with members of the Puzzled Escape team, PVPA interns are focused on set design, detailed prop work and providing input in the build out of their newest escape room adventure. Established in 2016 Puzzled Escape Games is a live action detective adventure, where a group of up to eight people are locked in a themed room and have one hour to work together to follow a story line, find clues and solve puzzles to escape. The activities are designed for family, friends, and team building.
We extend a big thank you to Tom, Lisa, and Marlena for their commitment to our current students and wish them continued successes. When you go to Puzzled Escape Games be sure to let them know you are part of the PVPA family!
Read more about Puzzled Escape Games:
---
On Tuesday March 26, 2019 PVPA joined with over four hundred people representing 234 different arts organizations and schools from the Berkshires to the Cape to connect and advocate for strong arts funding through meetings with State Legislators!
We greatly appreciated the opportunity to meet with State Senator Jo Comerford along with ten arts organizations from our area.
PVPA Alums were also seen on the day!
District Director for Senator Jo Comerford's office- PVPA Alum Elena Cohen '06!
Jake Nelson PVPA '15, Emerson '19 and Jennifer Jacobson (Associate Dir. of UMass MFA program & mother of Jake and Kate Nelson '16.
---
Invited by Senator Markey's Office to begin the Sunday March 24th evening proceedings held at Northampton High School to discuss a Green New Deal, ninth grade student Zaida Streit performed a beautiful rendition of the National Anthem. Zaida's soaring performance was punctuated by a standing ovation from the hundreds in attendance. Senator Ed Markey and Congressman Jim McGovern greeted Zaida following her performance to share a congratulations and heartfelt thank you. As Executive Director Dr. Kenen shared "Zaida was amazing. Not only was her performance great, she handles herself with grace and maturity far beyond her years, She makes PVPA proud!"
---
PVPA Alums Jeff Lynch '03 and Ilana Morris '13 returned to campus joining with Chris Fournier, Frank Newton, and Tom Wilts to teach the MAPS (Music and Poetry Synchronized) Paideia in Janury 2019. This songwriting class provides PVPA students the opportunity to write original music to poetry submitted by students from the Urban Assembly Green Careers Charter School of NYC. This course culminated in bringing the two groups of students together for a concert in February showcasing the poetry and music created together.We are grateful for the musical insights Jeff and Ilana provided our students.
Jeff Lynch '03 - Professional musician/songwriter and music professor at Westfield State University specializing in Modern Studio Recording Techniques.
Ilana Morris '13 - Professional musician and University of Massachusetts Amherst graduate with music and social justice focus.
---
Wednesday November 21, 2018 we held PVPA's inaugural Alumni event of the year: The Alumni Remix. Hosted at The 121 Club @ Eastworks in Easthampton. Alums enjoyed a special evening! With a total of 220 people in attendance from Class of 1999 to Class of 2018 and everything in between there was lots of laughter, joy, music, and food. A big thanks to the friends, board, admin, and faculty/staff for supporting our collective work to further connect and reconnect Alums with each other and the school.
---
Today three PVPA Alums visited us to participate in a panel discussion with our 11th and 12th students on post-secondary academic, arts, and professional experiences. A big thank you to Shaitia Spruell '11, Ilana Morris '13 , and Sarah Poirier '17, for sharing their insights with our current students!
---
Announcing PVPA Alumni Remix!
We are excited to announce our first PVPA Alumni event of the year!
PVPA Alumni Remix!
Wednesday, November 21, 5:00-9:00pm
121 Club, Eastworks Building
Easthampton, MA
Open to all PVPA alums from 1999 to 2018
Also open to PVPA faculty and staff, past and present
Connect and Reconnect with fellow alums
Come visit with the PVPA family before going home to visit with yours!
More details coming soon.
---