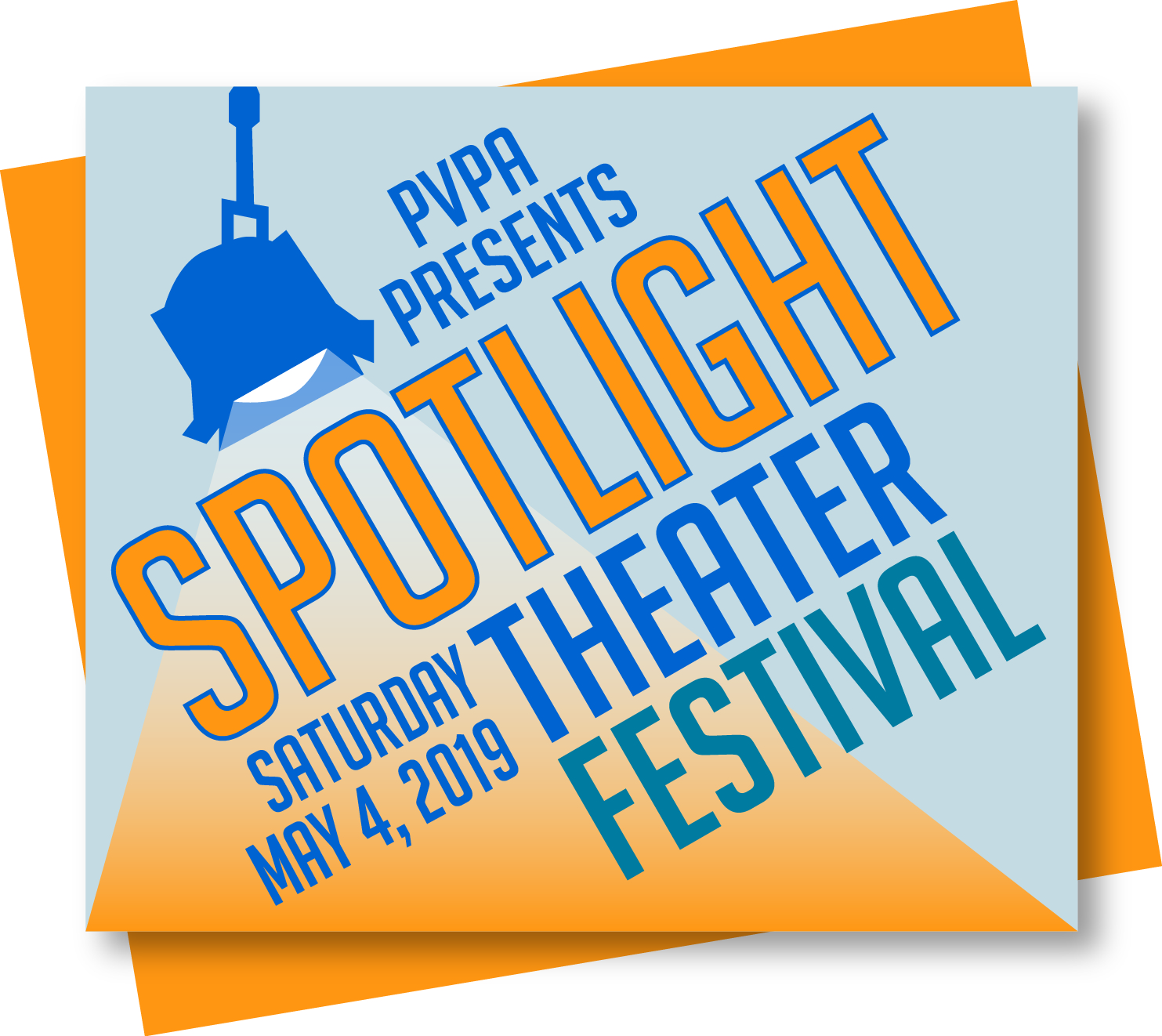 A showcase of theater performances
from Western MA high schools!
Spotlight 2019 - Participating schools
Wilbraham & Monson Academy
-
The Bear
by Anton Chekhov
Holyoke High School
-
Clean
by Audrey Cefaly
Easthampton High School - A Coupla Bimbos Sittin' Around Talkin' by Richard Vetere
West Springfield High School - The Complete Works of William Shakespeare, Abridged by Adam Long, Daniel Singer & Jess Winfield
PVPA Charter Public School
-
Tracks
by Peter Tarsi
What is Spotlight?
Spotlight Theater Festival is an opportunity for private and public high schools in Western Massachusetts to showcase the theatrical productions created in their school's courses or extracurricular organizations. The Theater Department at Pioneer Valley Performing Arts (PVPA) Charter Public School will host the second annual Spotlight Theater Festival on Saturday, May 4, 2019. We'll offer our school's state-of-the-art theater and supporting technical resources to participating schools. The festival aims to celebrate student theatrical achievements, and cultivate collaborative partnerships within the Western Massachusetts theater education community.
How many schools will perform?
This day-long festival will feature 4-6 one-act theatrical performances. The festival will also feature workshops, discussions of the plays performed that day, and a closing ceremony featuring student recognitions.
What are the requirements for the performances?
Each act should run between 30 to 45 minutes, and be able to load in and out of the stage in 10 minutes. Each school should be able to provide copy of the performance license for their selected title. Beyond that, each school may choose what type of play to present! Performances can include one-act plays, cuts of full-length scripts, student-written works, devised theater pieces, o a selection of 10-minute plays, scenes or monologues. Musical and non-musical plays are both welcome.
Who can participate?
Cast and crew must be students enrolled in grades 9-12 at the participating school. Productions may be directed and designed by either students or teachers.
Is this festival competitive?
This is a non-competitive festival. A panel of adjudicators, composed of theater professionals and educators, will provide written feedback to all acts and award student recognitions for outstanding elements in each school's production. The goal is to foster further growth by identifying the strengths of each work and providing suggestions for improvement.
Is there a participation fee?
There is a $100 registration fee for participating schools. This fee grants access to our stage and supporting technical equipment—including lights, sound system, and projection—during a technical rehearsal and the festival performance. Each participating school is responsible for transporting students, costumes and scenery to PVPA.
Is this an all day event?
Pretty much! A detailed schedule will be announced once registration is complete. Roughly, the day will likely start at 10:00am and wrap up around 7:00pm. All performing students are expected to be in attendance for the full day to watch each other's performances and participate in workshops and talkbacks. It's a long day, but a very fun, rewarding, and enriching one!
Who can attend this event?
This event is open to the public. Tickets to the festival will be sold the day of the event. Ticket-holders will have admission to all performances and events the day of the festival. All participating students are expected to be in the audience for all other acts.
How do I register my school?
Registration for the 2019 Spotligth Theater Festival is now closed. If you are interested in attending this year's festival or want to stay updated with information about the next, please contact the festival producer at the email listed below.
QUESTIONS?
Contact Jorge J. Rodríguez, Festival Producer, at jrodriguez@pvpa.org or 413-552-1580, x135.